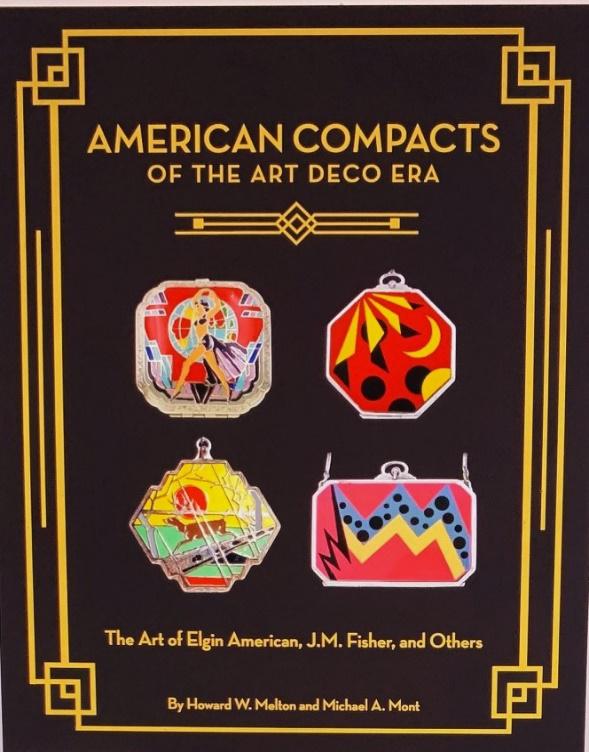 A Fantastic New Book
American Compacts of the Art Deco Era
The Art of Elgin American, J.M. Fisher, and Others
by Howard W. Melton and Michael A. Mont
America's Beautiful and Artistic Compacts from the Early
Art Deco Era, the 1920s through the early 1930s
1120 Stunning Color Photographs
History and Catalog of Elgin American and J. M. Fisher
Compacts from the Early 1920s through the Early 1930s
In the late 1920s and early 1930s, American manufacturers created a stunning variety of powder compacts reflecting the modern design concepts of what we now call Art Deco. The advent of the Great Depression had a devastating effect on the producers of these beautiful compacts. Many manufacturers either went out of business or merged with other companies. The book includes comprehensive coverage of the Art Deco compacts produced by Elgin American and J. M. Fisher as well as a survey of Art Deco compacts produced by other American manufacturers of this era including Evans Case Company; Girey Company; Marathon Company; Pilcher Manufacturing Company; Richard Hudnut Corporation; Ripley & Gowen Company; Theodore W. Foster & Bros. Co.; Volupte, Inc.; and others. The book includes 1120 color photographs, historical information relating to the emergence of powder compacts and Art Deco design, historical information concerning American compact manufacturers of this era, an extensive bibliography, and other reference materials.
To order your copy, please complete the information below – publisher's price $79.95, your price $52.95, with free shipping:
______________________ Mail To: Howard W. Melton and Associates
Your Name 200 E. Delaware Place, Suite 8B
Chicago, IL 60611
_________________________________
Your Address Non-Illinois Customers, $52.95 per book.
llinois Customers, $52.95 + $5.43 sales tax = $58.38 per book.
_________________________________
Your City, State, and Zip Code
For order confirmation, please provide your email address: _________________________________________
Alternative Payment: Purchase using PayPal to artdecobook@att.net – make sure your address is correct.
Questions or Special Requests? Email or Call: artdecobook@att.net / 312-587-0822