THE BOOKS ON CELLULOID ARE NOW AVAILABLE!!
Celluloid Collector's Reference and Value Guide by Keith Lauer and Julie Robinson
Celluloid Treasures of the Victorian Era by Joan Van Patten and Elmer & Peggy Williams
Julie Robinson and Keith Lauer have written one of the most comprehensive books on one of my favorite subjects--CELLULOID!

The book begins with the history of celluloid and continues with detailed information and great photographs of:
celluloid in fashion
vanity items
decorative boxes and photograph albums
household accessories
novelties
toys
There is also an interesting chapter on the chemistry, care and preservation of celluloid. Details on the celluloid disease we all worry about, along with photographs of it actually disintegrating are included!

For all you celluloid collectors, be it boxes, albums, toys, combs, purse frames, advertising, novelties and jewelry, this book is a must have for your library of reference books!
---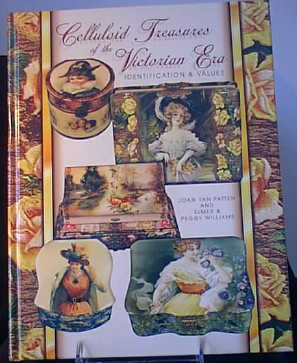 You will drool immediately upon turning the pages of Celluloid Treasures of the Victorian Era! Authors Joan Van Patten and Elmer & Peggy Williams outdid themselves with the photographs of celluloid covered boxes, photograph and autograph albums!!
Catalog pages from 1893-1910 where these items once sold for a couple of dollars are included along with copies of some of the original patents for manufacturing celluloid boxes and albums.
It is so much fun to thumb though this book and view photos of some of the best celluloid collections around! The ladies that adorned some of these pieces will take your breath away!
Prices are included for each item and I believe that they should be used only as a guide as prices vary greatly from one part of the country to the next!

---
Both books are priced at $24.95 and were published by Collector Books, P.O. Box 3009, Paducah, KY 42002-3009. 1-800-626-5420